One of the ways that DiAS supports parents and professionals is by sharing our knowledge and expertise. We often work directly with parents to deliver our training and also co-produce sessions with other organisations and teams, such as Devon's SEND Local Offer, Parent Carer Forum Devon and Devon schools.
We inform and support parents and professionals by:
delivering training
running workshops and seminars
putting on information events
telling others about the work we do, and how we can support parents, carers,  children and  young people
Training and information events for parents
Better Outcomes from meetings training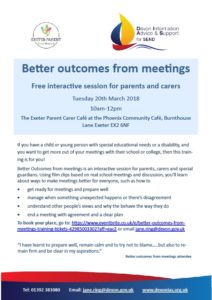 School and college meetings are a regular part of life if you're a parent with a child or young person with SEND. But, meetings can be challenging, stressful, time consuming and sometimes not very productive. Better outcomes training can help parents to work constructively with school staff and get more out of each meeting.
Better Outcomes is an interactive skills training session. Using films based on real life examples, discussion and the expertise of DiAS staff, parents are able to gain new skills and insight about:
their rights and responsibilities
preparing well for meetings
managing the unexpected
working towards the outcomes they would like
Training is usually hosted by schools and similar sessions are also run as 'Making meetings work'  for teachers and other staff. If you would like to host an event, or would like more information, contact us at diastraining@devon.gov.uk.
Demystifying SEND Information sessions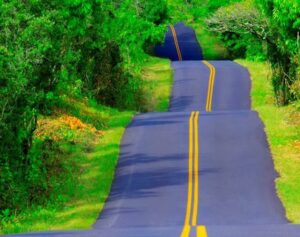 This session is aimed at parent/carers supporting their child with special educational needs and disabilities (SEND) who would like to find out more about SEND support.  It's run by the DiAS Ambassador Volunteer coordinator as part of the Ambassador Volunteer project.
It aims to help parents understand how they can access information and which services may be available for them. There is discussion about the graduated response and the terminology around SEND used in schools. e.g. universal, targeted, specialist services. Parent carers can also find out more about working with school in an assess, plan, do and review type approach. The sessions also aims to signpost to information and service websites that are already out there and linked to the Devon Local offer webpage.
To find out more about the sessions, contact Megan Kenneally-Stone.
The DiAS Service explained
These talks are usually about an hour long and are run with particular groups, such as parents of children with specific conditions. Sessions are also available to professionals, services and teams, including whole school staff and SEND teams.
We can offer one-off sessions or a have a regular slot on parent training courses that support children and young people with specific conditions. DiAS Officers talk about what the service offers parents, carers , children and young people and answer any questions.
If you would like us to come and talk to your group about who we are and what we do, contact us.
Training and information events for professionals
Working Together with Parents
These are interactive skills training sessions about getting the most out of school and college meetings with parents, carers and young people.
Meetings play an essential part in the Special Educational Needs and Disabilities (SEND) communication tool box.  However, meetings can at times be challenging, stressful, time consuming and not very productive.
Working together with parents training explores the factors that can affect the success of a meeting. That includes the way we participate, our perception of others and the 'baggage' we sometimes bring with us. These sessions give professionals the opportunity to reflect on their practice. It also gives tips for strategies that can improve the meeting experience. The aim is ultimately to bring about better outcomes for children and young people.
Training can be tailored to the needs of the audience. The training can be delivered as part of the development of school staff or other professionals' teams.
If you would like more information, or want to talk about putting on a session in your school. contact us at diastraining@devon.gov.uk.
Bespoke training sessions
We also do one off training events and workshops on subjects like 'the child's voice'.
If you want to find out more about any of our training for parents and professionals, contact us.